Privacy Policy
(GDPR)
At Westwinds Offshore Services Limited ("Westwinds") we want you to be given the opportunity to understand how we use your personal information and to be confident that this information is safe and secure. This privacy policy explains why we collect your information, how we use it, your rights and choices together with the steps we take to keep it secure and confidential.
We keep our privacy policy under review and we recommend that you check it regularly. This privacy policy was last updated on 21 May 2018.
This privacy policy covers:

How we use your information to provide Westwinds services
Why we share your information within Westwinds
Why we share your information with other organisations
How we transfer your information to other countries
How we use your information to contact you
What happens to your information when we don't need to use it anymore
How we keep your information secure
Your rights in relation to your information
How we use social media
Your rights when you follow links to external websites
The cookies we use and how you can control them
How you can ask for more information, ask a question, or make a complaint
How to contact the Westwinds Data Protection Officer

Where we refer to Westwinds we mean Westwinds Offshore Services Limited and its wholly owned subsidiary companies.
Using your information to provide Westwinds services
Westwinds offers a wide range of services and we collect and hold personal information that identifies clients, intermediaries, suppliers and other third parties linked to our clients. The types and amount of information we collect differs depending on your relationship with us. We only collect the data we need in order to provide the services you have asked for, or that we need in order to fulfil our legal or regulatory obligations in relation to those services. If we need to collect additional information we will explain why we need it.
You are not obliged to provide any of the information we ask you for, but if you choose not to we may be unable to provide you with services or respond to your enquiries.
The examples in this section are only an overview of the types of processing we carry out. If you would like a more in-depth list of our processing activities and our legal basis for processing, please contact the Data Protection team.
When you enquire about our services and when you have appointed Westwinds to provide services, your personal information may be used for:
Responding to enquiries, offering services, and agreeing terms of business
Communicating with you about the services you have asked us to provide and informing you of changes that affect those service
Providing fiduciary service
Setting up and administering trusts and companies
Managing property portfolios
Tax planning and ongoing monitoring, calculating and submitting tax returns
VAT registrations, calculation and submission of VAT returns
Buying, selling and financing of yachts/aircraft and crew management
Processing license applications
Payroll administration
Preparation and submission of visa and work permit applications
Translation services
Banking and payment services
There are times when we are under a legal obligation to collect your personal information, including for:
Preventing financial crime and the funding of terrorism
Identifying politically or commercially exposed persons, or those with a significant exposure to the media
FATCA/CRS reporting
Obtaining certificates of competency, qualification certificates and health records for yacht and aircraft crew
There are occasions where it is in our legitimate interests to collect and process your information, for example:
CCTV monitoring of our office spaces helps to keep our staff and visitors safe and protects your personal information from unauthorised access - such data may be given to law enforcement agencies as evidence if we think an offence has been committed.
When you ask us to provide services we are required to assess the risks associated with providing that service. This will involve us using information we already hold and information from background checks and credit reference checks to evaluate the risks to you, to Westwinds and to any organisations whose products or services we are providing for you.
Analysing details of the number of visits to our website and the pages visitors view allows us to update and improve it. This allows us to refine the site and make your visits to our website more interesting and informative.
To make you aware of additional or new services that we feel could be of benefit to you and will complement the services we already provide.
We have the facility to record telephone calls to allow us to monitor staff performance, identify improvements in customer service and to assist in investigating and responding to disputes quickly and effectively. You will be notified by a member of our team if it is going to be recorded.
In some circumstances we cannot process your data without your explicit consent, such as when your physical or mental capacity for decision making needs to be assessed. If we ask you to provide sensitive information we will fully explain your options before we ask you to provide it.
Sharing your information within Westwinds
We share your information with other Westwinds companies where it is necessary in order for us to provide you with our services.
Sharing your information with other organisations
In the usual course of our business, we use third party organisations to support the essential delivery of our services to you. Under these circumstances Westwinds remains responsible for the security and privacy of your information and we regularly review all third parties' security measures to ensure they meet the same standards you expect from Westwinds. All third party organisations operate under contracts that restrict their use of your personal information to providing the services we have employed them for.
The services they provide include:
providing and supporting the IT systems in which your information is stored
IT Systems backup and support systems
transportation and storage of information and confidential destruction
translation of documents
managing events arranged by Westwinds
administering bulk email campaigns for information or marketing purposes
We may also have an obligation to share some of your personal information with public authorities, such as:
Tax and VAT authorities
Company and Trust Registries
Regulatory authorities
Law enforcement agencies
Yacht and aircraft registries
In some cases, your personal information will be shared with organisations outside Westwinds in order to obtain specialist or professional services that are necessary for the services we provide to you. These include:
Your professional advisers, such as accountants, lawyers, agents and architects
Banks or other financial institutions
Credit reference agencies who assist us in meeting our customer due diligence obligations
Services provided by our external IT providers
These external organisations have a legal obligation to comply with privacy and data protection legislation and most if not all will operate under a professional duty of confidentiality due to the type of service they provide. They have their own privacy policies that provide information about how they use your information.
You can find out more about the organisations your data has been shared with by contacting the Westwinds Data Protection team.
Transferring your information to other countries
When we share your information with organisations that are located in different jurisdictions, including other Westwinds companies, we ensure they apply equivalent levels of protection.
Countries in the European Economic Area and those that have been awarded an adequacy ruling by the EU are considered to be secure. Personal information can flow freely between those countries because they provide equivalent levels of protection and their laws give you the same rights and protections in relation to your personal data.
For other international transfers we put data sharing contracts in place to ensure you retain the same rights and protections in the recipient country as you have in the country where your information was originally collected. This ensures that such transfers are legal and gives you and Westwinds, the reassurance of knowing that your privacy rights remain the same wherever your information is being processed.
If you would like more information please contact the Westwinds Data Protection team.
Using your contact details
From time to time we will send you important notices about the products or services you have asked us to provide, changes to our policies or terms and conditions, or changes to laws or regulations that could affect the service we provide. This is important information that keeps you informed about the products or services you have asked us to provide.
We may also send you emails containing newsletters and articles, information about additional services provided by Westwinds, or invitations to events we are organising, attending or sponsoring. You can opt-out of receiving these messages by contacting us here or by clicking on the unsubscribe link in those emails.
We never sell or lease your personal information or share it with other organisations outside Westwinds for marketing purposes.
Storing and deleting your information
The amount of time we keep your personal information will vary depending on your relationship with Westwinds. In some circumstances there is a legal or regulatory requirement to keep information for a specific amount of time, although this will be extended if there is ongoing legal action that overrides the normal retention period. Where there is no regulatory or legal requirement, we assess how long we reasonably need to keep your information in order to deal with ongoing queries.
When our relationship with you ends, there will be information we cannot delete immediately. Such information will be stored in our physical and/or electronic archives until we no longer have an obligation to keep them. At that point the information will be permanently deleted.
Keeping your information secure
We take the security of personal information and confidential documents extremely seriously. Westwinds complies with data protection legislation in the jurisdictions in which we operate and we have put in place appropriate safeguards to prevent unauthorised access or unlawful use of confidential information.
We restrict access to personal information to Westwinds employees, contractors and agents who need to know that information in order to process it for us. They are subject to strict contractual confidentiality obligations and they may be disciplined or their contract terminated if they fail to meet these obligations.
We also employ a wide variety of technical and organisational security measures to safeguard the confidentiality, integrity and availability of your information.
Your rights
Subject to some exceptions, you have the right to:
know whether Westwinds is processing your personal information
request a copy of the personal information Westwinds holds about you
have any inaccuracies corrected or/and have incomplete personal data completed
have your personal data erased if it is no longer needed
ask Westwinds to restrict the processing of your data
object to Westwinds processing your data
ask for your data to be transferred to a new service provider
object to processing that is carried out in Westwinds legitimate interests
not be subject to a decision based solely on automated processing if it produces legal effects or similarly affects you
make a complaint to a data protection supervisory authority or regulator
You can find out more about your rights here.
If you would like to exercise any of your rights please contact the Westwinds Data Protection team.
Social media
Westwinds uses or may use a number of social media sites including Facebook, Twitter, LinkedIn and YouTube. We receive some information about you from these sites when you interact with us or access our social media content. The amount of information we receive is governed by your social media account privacy settings and the policies and procedures of each social media platform.
Links to external sites
The Westwinds website contains links to other websites which are not controlled by Westwinds. We are not responsible for the privacy of those sites and we encourage you to review the privacy policies of each one when you visit external sites so that you understand how those other organisations are using your personal information.
Cookies
A cookie is a file which is sent to your computer or other access device when you visit a website. The Westwinds website may cookies to analyse user activities which helps us to develop it and initiate improvements aimed at making your visits more simple and relevant. The cookies we use do not collect personal information and they are not used to identify individuals.
For full details of the cookies used by Westwinds, please see our Cookies Policy.
Queries and complaints
This privacy policy aims to give you an overview of the ways in which we process your personal information. If you would like more detail or have any queries, please contact usso that we can assist you. We take any complaints we receive about the way we process your information very seriously and we would like to hear from you if you have any concerns.
If you have any concerns about the way we process your personal information we would prefer that you contact us to discuss your concerns. You also have the right to make a complaint to the data protection supervisory authority in the Isle of Man as below: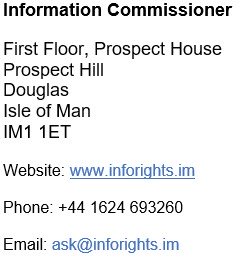 Westwinds Data Protection Officer
If you have any questions about this privacy policy or any other data protection issues please contact:

Westwinds Offshore ServicesLimited
The Data Protection Officer,
1st Floor
Court Row Chambers,
Court Row,
Ramsey,
Isle of Man,
IM8 1JS

Phone: +44 1624 819215